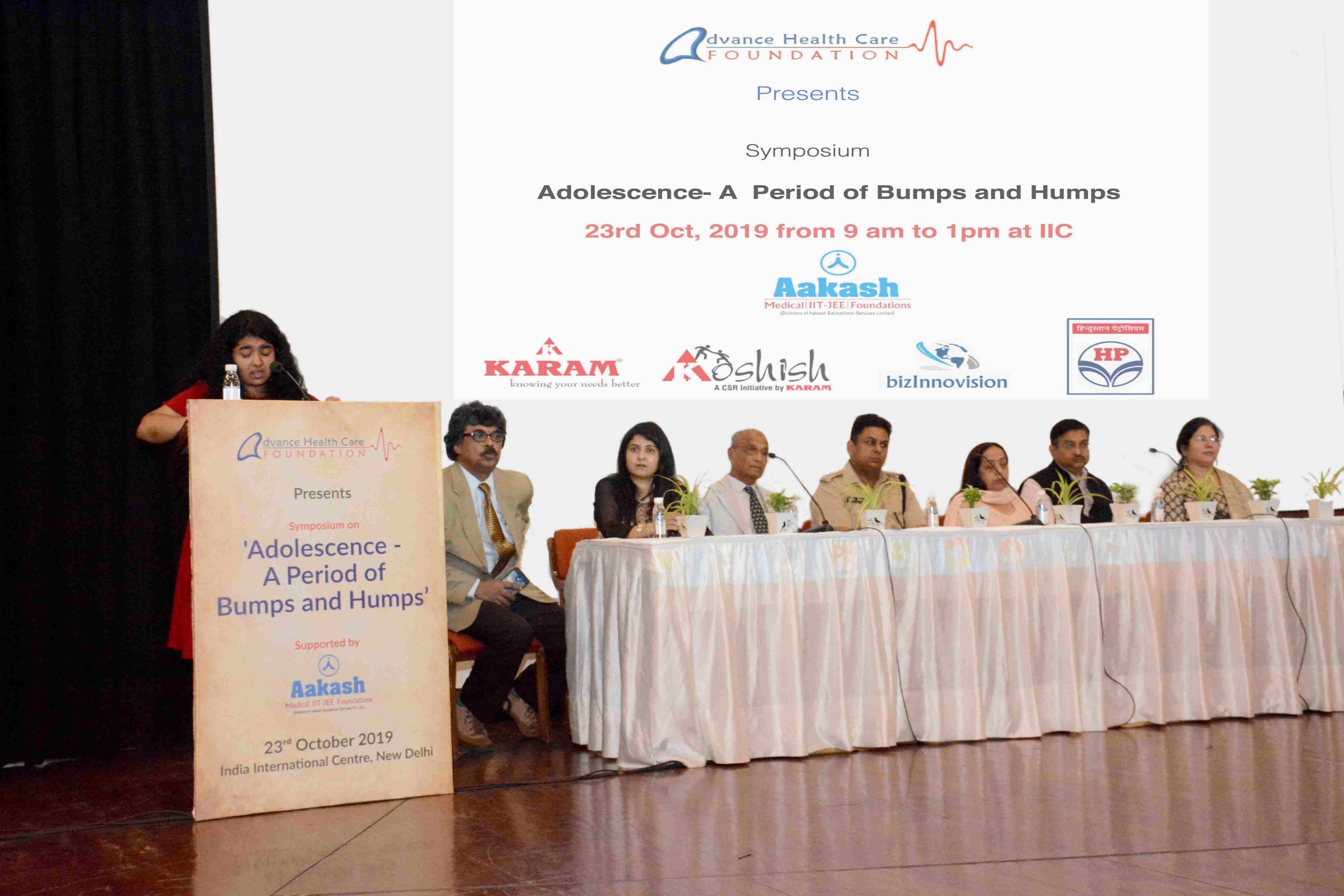 Adolescence is one of the phases of life marking the innumerable changes an individual undergoes where he/she paves his/her way to either discovery or disorientation. As an initiative to enlighten the adolescents with the correct knowledge about the changes encircling their body and mind so that they become responsible future citizens of our country, AHCF had organized a symposium titled Adolescence: A period of Bumps and Humps, powered by Aakash, with karam as the cultural partner , HPCL an associate partner and Bizinnovision as the technology partner, at Indian International Centre, New Delhi. The event witnessed students from top 27 schools of Delhi-NCR, who were accompanied by their respective teachers. We had the priviledge to have amongst us some esteemed guests like Dr. Eish Singhal, IPS, Delhi, Dr. Kiran Sharma, Technical officer at Adolescent and development at WHO and Mrs Suman Donga, Media Director Of Spic Macay who had spared time from their busy schedules to address all the adolescents.
The event was organized in order to encourage the adolescents to discuss about their problems with their parents or teachers rather than being misinformed or influenced by external sources. This was accomplished by panel discussions and visual presentations by acclaimed doctors and experts. The adolescents were fortunate enough to be glorified by the knowledge and expertise of respectable doctors such as Dr. Wangnoo, Dr. R Tandon, Dr. Rajesh gupta, Dr. Abhikasha and Dr. SN Deshpandey , Dr Sidharth through the lectures and presentations that were conducted by them in order to create awareness about issues related to this age that are otherwise not discussed out of shame or fear. Every lecture was followed by a question-answer session by the adolescents to the particular doctor or panelist where all their doubts were considered and cleared patiently. With the objective of making the event more intresting and worth remembering, we had creative communication acts powered by Karma, which symbolized the issues associated with this age and their harmful repercussions, if not handled with a practical and realistic approach.
The event ended with the oath and certificates distribution for all the students who had attended the event , to acknowledge their participation and their pledge to be responsible future citizens of our country.