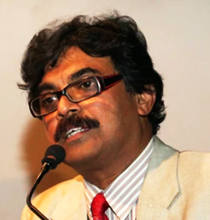 Dr. Saurabh Kole
---
Dr. Saurabh Kole has been working in the field of Critical Care Medicine and Emergency Medicine for more than 25 years.
Till date he has attached to Belle Vue Clinic, Kolkata (India), presently as the In-charge of Intensive Care Unit Dept. of Emergency Medicine & Medical Coordinator (Academic Wing). currently he is chairperson ISCCM, kolkata branch and general secretary organ donation, IMA

In the last 15 years or more,he has involved himself in visiting and helping the Disaster affected victims in the sub-continent as given below:
In 2001, went to Gujarat leading a medical team after a devastating Earthquake;
2004, Tsunami affected areas of Nagapattinam and the Andaman Islands;
2005, flood ravaged areas in Mumbai;
2007, cyclone affected Bangladesh (Sidr 2007);
2008, cyclone-hit Myanmar (Nargis 2008);
2013, flood ravaged Uttarakhand, and
2014, cyclone hit Kashmir.
2015, to Earthquake affected Nepal.
ACHIEVEMENTS
---
A 'Society for Disaster Preparedness' took shape with his constant effort. Primary focused areas are vulnerability, bio-terrorism, basic rescue response during disaster, mass casualty and hospital preparedness during disaster, pre-hospital transport, community preparedness, communication systems awareness like signaling and warning, and primary management at the accident spot when no doctor is available.

65 workshops on disaster preparedness have been arranged till now with the involvement of people from every state of our society.

320 workshops on Basic Life Support and CPR have been arranged with the help of different organizations both Governmental and non-Governmental institutions like SEMI, Indian Society of Critical Care Medicine (Kolkata), Concern for Kolkata, Police Training Centre, Rotary Club, Airports Authority of India etc. Many reputed teaching institutions have also received this training.
ORGANIZING CAPACITY
---
5th National Critical Care Congress - held in Kolkata (1999)
10th National Congress of Indian Society of Perental and Enteral Nutrition (2006)
1st National Congress of Indian Society of Surveillance and Control of Nosocomial Infection (2006)
13th National Congress of Society for Emergency Medicine, India (2012)
Organizing Co-Chairperson 19th annual conference Criticare 2013
WORKS WITH COLLABORATION
---
Rotary Club District 3290
Indian Medical Association
Critical Care Society
Society of Emergency Medicine Kolkata
Kolkata Police
Concern for Kolkata
Fire Brigade Authority, Kolkata
Bagbazar Medical Welfare Society
S. S. K. M. Hospital
Karimpur Gram Panchayat (Karimpur, Nadia)
Sports Authority of India (Salt Lake)
Administrative Training Institute (West Bengal)
R. G. Kar Medical College
St. John's Ambulance
Red Cross Society
CONTRIBUTION TOWARDS PROGRESS IN KNOWLEDGE AND PRACTICE IN THE FIELD
---
Published a book named

'Ventilation Made Easy'

. Many stalwarts of critical care from our country and abroad have contributed to enrich the content of the book.
Work on earthquake affected victims of Gujarat was published in the World federation of Critical Care Journal in the year 2001.
Conducting many teaching and training programme as well as arranging seminars to create constant awareness among people on subjects like:

CPR,
Disaster Preparedness
Primary Management of accident where no doctor is available

Abstract and scientific publication in different international forum more than ten.
RECOGNITION
---
Invited in many National Congresses as a faculty:

'Association of Physicians of India'.
'The Society of Emergency Medicine'.
'Indian Society of Critical Care Medicine'.
'Indian Society of Parenteral and Enteral Nutrition'.
'Indian Society of Surveillance and Control of No socomial Infection' are among them.

Invited in many international congresses as faculty:

Invited to deliver a Talk on 'Guidelines and Perspective of Disaster Management' at the World Critical Care Conference in Florence, Italy 2009.
In 2010, delivered an Oral presentation on 'Lung Function Test in Chronic Arsenicosis patients' in the Conference of International Primary Respiratory Care Group in Toronto.
A lecture on 'Experience of Disaster Management in South-East Asia' in Asia Pacific Critical Care Congress at Sydney, Australia.
Presented a Paper on 'Screening of Ischemic Heart Disease' in Chronic Arsenicosis patients in World Congress of Cardiology held in Buenos Aires, Argentina, 2008.
I was included as a Speaker in 3rd International Congress of Emergency Medicine in Bangladesh from 29th December, 2010 to 1st January, 2011. My topic was 'Shock in ER'.
I was invited in 2011 as a faculty in the 7th Emirates Critical Care Conference held in Dubai. The Topics were 'Disaster Management in South-East Asia', 'Patient Safety in ICU' and 'ICU in India'.
Invited as a faculty member of APACCM and JSIM to deliver a lecture on 'Critical Care in Disaster Management - Some Experiences' at Makuhari Messe, Chiba, Japan on 1st March, 2012.

Delivered a couple of lectures on Organ Donation in two seminars organized on the subject by IMA (West Bengal Branch), the Ramakrishna Mission, Kolkata (Golpark Branch) and in Calcutta University.
In EMCON 2014 Mumbai, was invited as a speaker to deliver a lecture on "Uncommon Endocrine Emergencies".
Invited to deliver a lecture on "Current Scenario of Critical Care Medicine in India" in the "12th World Critical Care Congress" at 'Seoul' which was held from 29th August 2015 to 1st September 2015.